Gift voucher - Canoeing, Loch Ness Taster (1hr) for Under 18s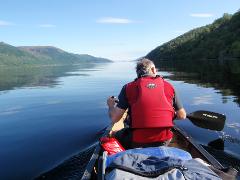 Location: Fort Augustus, Loch Ness
An ideal canoe trip for those that are short of time, or perhaps have younger children that you don't think could sit still for a whole or half day!

Starting from picturesque Fort Augustus, you will get the chance to experience a short paddling tour along the southern shore of Loch Ness in very stable open (canadian-style) canoes. Enjoy stunning views right up the loch, explore the mouth of the River Oich and paddle past the Old Pier where steam trains used to unload their passengers onto a paddle steamer for the journey up Loch Ness to Inverness in the days before a road was carved out of the imposing north shore. No previous experience required, non-swimmers welcome. A great way to experience Loch Ness up close.

Suitable for adults and children aged 5+. Young children (5 to 9 yo.) will sit on an extra third seat in the canoe, so there are still two people to paddle and control the canoe.
We provide the canoes, paddles, buoyancy aids and a small dry bag for your camera/snack/spare clothing. You need to wear a pair of shoes that you don't mind getting wet (as you get in and out of the canoe) and to bring a waterproof jacket. A towel and change of clothes is strongly recommended too, just in case you fall/jump into Loch Ness! Do take a camera, but please keep it in the waterproof bag provided when you're not using it. We can not be held responsible for damage/loss of your phones, cameras and car keys so please only take them along if you are happy you can look after them.

Getting to Fort Augustus:

There are buses available from Inverness and Fort William or you can drive there along the A82 road. It's a lovely little town and really worth a visit in its own right. Fort Augustus provides an awesome view up Loch Ness from its position at the southern end of this most iconic of Scottish lochs.

Meeting place (Inveroich Pier):

From the public car park in the centre of the village, walk south past the petrol station and over the stone bridge over the River Oich. Turn left at signs for The Millshop (before crossing the canal) and walk down canal-side to the very end of the roadway, on the banks of Loch Ness. Please note that
there is no parking available at the meeting point – you should park in the main village car park (where there are public toilets too) and allow 10 minutes for the stroll down to the lochside.